So, you are in final year of engineering and getting confused about what to do next??  What are the options after engineering??
Above is the common question in the minds of all the students in the final year of engineering.
Engineering graduates have a plethora of opportunity to pick from. Many students limit their options and fall short of achieving their goals.Before accepting the first job offer that comes your way, here are some things you should ask yourself:
Do I think I'll be able to advance in this field? Is the domain strong enough to last another 20 years or more?Do I have a strong desire to learn new things in this particular field?
It's critical to plan ahead of time so you don't end up with regrets or trying to change careers after few years. The world is brimming with possibilities. To choose the correct professional path after engineering, one must first learn about all of the available options.
Career Options After Engineering: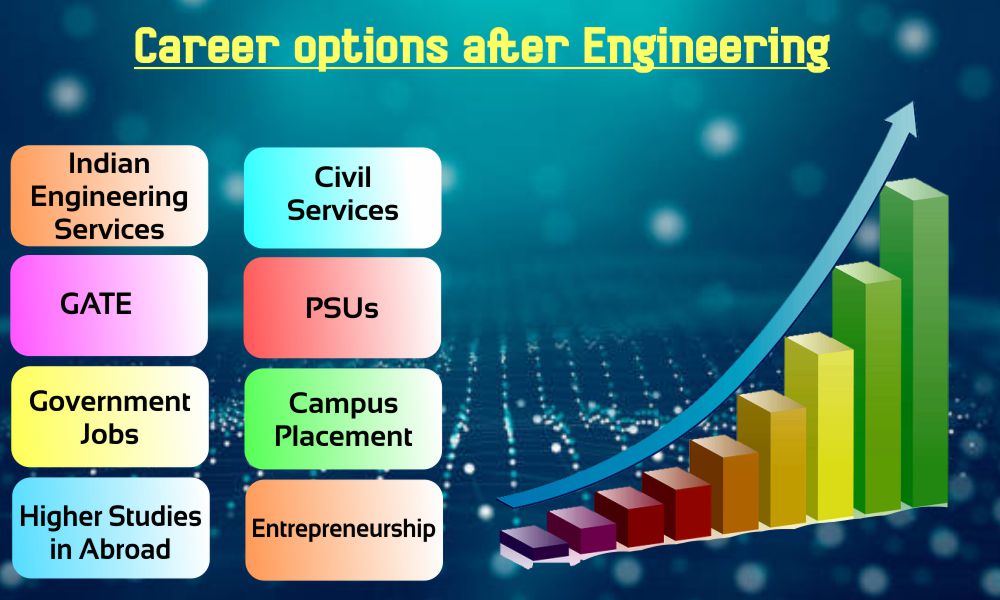 IES: You can apply for Indian Engineering Services after obtaining a bachelor's degree. Indian Engineering Services remains the most demanding career for the engineering graduates in India. It is conducted annually by UPSC. It is conducted in 3 phases: A Preliminary Examination having 2 objective-type papers (General Studies Paper I and Technical Paper 2 Branch wise also popularly known
as (Civil, Electrical, Mechanical, Electronics and Telecommunications) and a main examination consisting of 4 papers of conventional (essay) type, followed by a personality test (interview). Final year students are eligible to apply.
Civil Services: If you are interested in serving the nation at grass root level and want to bring some change in society, you can go for civil services.This is also fact that every year 70% of selected IAS are from engineering background.This is because of the fact that engineers have better analytical aptitude as compared to Arts and Commerce graduates.
GATE: You can take the GATE exam. After qualifying the exam there are two options for you.
Pursue M.Tech: After qualifying the GATE exam you would be eligible for M.Tech admission in recognized Indian institutes like IITs, NITs, and IIITs etc.
PSUs: PSUs like GAIL, DRDO, IOCL, NTPC, etc recruit on the basis of GATE score. PSUs are divided into three categories: Central Public Sector Enterprises (CPSEs), Public Sector Banks (PSBs), and State Level Public Enterprises (SLPEs).
Types of PSUs :
Based on different variables such as income, stock exchange, and annual revenue, there are three types of public sector companies:
Maharatna
Navratana
Mini-Ratna
There are 11 Maharatnas, 13 Navratnas and 73 Miniratnas (divided into category1 and Category 2).
If you are technically strong and scored a good percentile in GATE exam you can apply for PSU. Some Government departments like Department of Atomic energy etc. conduct their own exams for recruitment. Follow their advertisements.
Governmant Jobs: Jobs for engineers in govt. sector are always in demand. Just pass your examinations and you'll be on your way to achieving your life's happiness icon. Some of the govt. jobs for engineers are
Railways: The railways are one of the top employment alternatives. Senior Section Engineer (SSE) and Junior Engineer (JE) are two employment profiles for B-Tech graduates.
Defense Services: If you think of serving the country, you may join defensewhich includes Indian Air Force, Indian Armed Force and India Navy. There are many positions for engineers with high pay scale.
Banking Jobs: IT officers in Banks are responsiblefor developing, directing planning and coordinating all the security programs in Bank Network. Every year there are number of openings released by Bank for IT officers.
Campus Placement: If you think GATE and other govt. exams are not your cup of tea you can always join any private company in your domain area through campus placement. Remember, the first few years in a private company are always going to be tough but those who sails through it becomes successful.  There is a high demand for people who can work with IOT & Cyber Security, machine learning, and artificial intelligence, robotics and automation. So, if you want to upskill yourself and get the better job you are looking for, you need to master some latest technical skills.
Higher Studies in India/Abroad: After completing your engineering degree, you can apply for M.Tech , ME by taking tests such as the Gate, GRE, TOEFL, and IELTS in India and Abroad.If you are truly interested in management, you can also pursue MBA, which is also one of the best career options after engineering.  ForMBA, you have to qualify CAT, GMAT, CMAT exams which will help you in getting admitted in TOP-B Schools in India (IIMs) and Abroad.
Entrepreneurship: Engineers can also start their startups. The recent triumphs of numerous engineer entrepreneurs have motivated the youth. After graduation, you have the option of starting your own business.
To get started on this road, you need first identify a common issue and build a solution for it. The issue might arise in any industry. Flipkart, for example, eliminated the burden of purchasing offline, and Paytm addressed the issue of cash scarcity.
Entrepreneurship necessitates a great deal of patience. Furthermore, the benefits of becoming a successful entrepreneur are enormous.
Become the part of Dronacharya College of Engineering, Gurugram one of the best engineering college in Delhi NCR and open your doors  to all the career options after engineering .