"Knowledge is of no value unless you put it into practice"
The right education is the foundation of a successful career. Education is one of the fundamental essential which acts as a foundation or building block which pave the path for our careers. But in today's dynamic world just having a good degree is not important. Germane work experience is now as valuable as your degree and exam results when it comes to building a successful career. As a result, internships have become an important part of engineer's curriculum.
The importance of internships is now highlighted in many surveys. According to the recent survey the number of job opportunities for students with internship experience is more. And why not, they have work ethics and are well informed with industrial knowledge.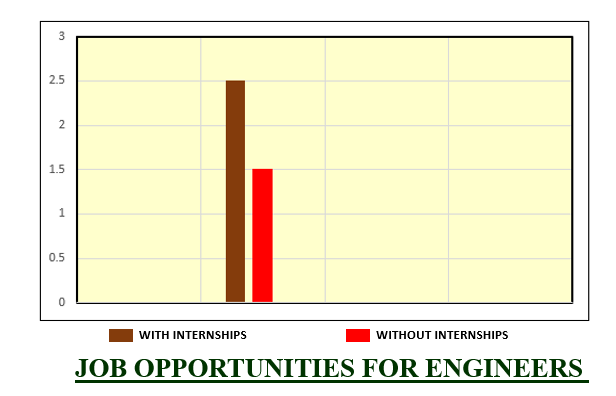 IMPORTANCE OF INTERNSHIPS IN ENGINEERING CAREER:
Helps Getting Acquainted with Current Trends and Industry
– Internships helps engineering students to acquire in-demand technical skills, helps to learn professional ethics or etiquette and helps in polishing the soft skills. Students get an opportunity to expose themselves to the actual work environment, contrasting with their textbook theories. Having the proficiency to apply theories in practical work is very important and internship gives you the right platform for testing your efficiencies.
 Provides a Job
– An intern can get an opportunity to work on their desired projects and gain industrial experience. This helps the engineering students for getting a proper placement. Such pre-placement offers help students to build their professional network and contacts.
Explore
– Engineering is a vast field and choosing an appropriate area is very important. Internships allow the students to explore the different arenas of their stream and gives them the chance to choose their path on which they will work with utmost sincerity and concentration. This strengthens their personal and professional character.
Meeting New People and Enlarging Networks
An intern can meet people with similar interests which widen his professional contacts. Providing a ground for practical experience internships ultimately helps the engineering aspirants to shine bright in their careers.
Career Development Opportunities
– Interns can seek out new challenging assignments, take up individual initiatives and responsibilities to show that you can be a great asset to them. Therefore, through internships the students not just learn work ethics but also secures a bright future for themselves.
Opportunity to Learn About Yourself
– Every sector has its pros and cons. And to explore that the students need to expose themselves to such work environments and understand the depth of every field to acknowledge their strengths and weakness. Therefore, internships allow the engineering aspirants to come out of their comfort zone and test the best version of themselves.
Gain a Competitive Edge
– During internships students enter a work- life which teaches them work ethics and slowly they gain a competitive edge over the fellow interns. The behaviour of showing the best of your version always proves to be of utmost benefit during jobs and making a successful career.
Therefore, to gain industrial experience and practical approach internships are a must for engineering students and Dronacharya College of Engineering, Gurugram always encourages its students to grab such golden opportunities keeping in mind the importance and experience they will gain through these internships and pre-placement drives.
FAQ's :   Importance of Internship For Engineering Students
Q1. What is the right time to do internships?
Students often apply for internships in third year to get better and in-depth understanding of the field in which they want to take their careers ahead.
Q2. How to apply for internships?
The college placement cell will always be the best place to reach out when you want to do internship in the field of your interest. The students can also check the websites and linkedin platform to get the latest updates.
Q3. How do internships help in placements?
Internships help the students in gaining industrial experience and teaches them to apply theoretical knowledge in practical form. And therefore, increases job opportunities because the students with degree and hand-on experience are always the first choice for every company.
Q4. What are the best internships for engineering students?
Students can apply for both paid and unpaid internships and summer trainings. Areas of training can include Software development, technical write-up of projects, design, and development of products, expertise in c++ coding and learning programming languages. Interns can gain experience with engineering systems and tracking plans during these training sessions.
Q5. Are internships mandatory for engineering students?
Yes, internships are a must for engineering students. As it widens the spectrum of knowledge and experience and also helps them to build professional personality and contacts which further aids is cracking placement opportunities. Thus securing a balanced and successful career.